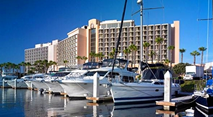 The Electronic Components and Technology Conference (ECTC) is the premier international event that brings together the best in packaging, components and microelectronic systems science, technology and education in an environment of cooperation and technical exchange. ECTC is sponsored by the IEEE Electronics Packaging Society. ITHERM 2018, the Intersociety Conference on Thermal and Thermomechanical Phenomena in Electronic Systems, will also be held in the same location and on the same dates as ECTC, with joint registration opportunities.

The next Heterogeneous Integration Roadmap Workshop will be held at ECTC 2018 on 5/29/2018. Pls see the Final Program for details.
Upcoming Dates
04.27.2018
| Final Program Online
05.03.2018
| Last Day for Discounted Advance ECTC Registration
05.04.2018
| Last Day for Discounted Hotel Room Reservation
Location
Sheraton San Diego Hotel & Marina
San Diego, California USA
May 29 - June 1, 2018
Nestled at the edge of spectacular San Diego Bay, the Sheraton San Diego Hotel & Marina enjoys panoramic views of the bay and the city skyline, yet is just 10 minutes from renowned attractions including the San Diego Zoo, Old Town and Balboa Park. Dubbed by many as "the only area in the US with perfect weather," San Diego is the oldest port on the West Coast and the sixth-largest city in the United States.