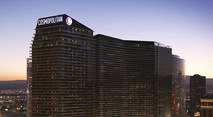 The Electronic Components and Technology Conference (ECTC) is the premier international event that brings together the best in packaging, components and microelectronic systems science, technology and education in an environment of cooperation and technical exchange. ECTC is sponsored by the Components, Packaging and Manufacturing Technology (CPMT) Society of the IEEE. The 2016 ECTC will be held at The Cosmopolitan of Las Vegas, Las Vegas, Nevada, USA and co-located with ITHERM.
Links and Files
Upcoming Dates
04.29.2016
| Final Program Online & Last Day for Discounted Hotel Room Reservation
05.05.2016
| Last Day for Discounted Advance Registration
05.31.2016
| 2016 ECTC Opening Day
Location
The Cosmopolitan of Las Vegas
Las Vegas, Nevada USA | May 31 - June 3, 2016
Located directly adjacent to the world-renowned Bellagio and its famed fountain show, the Cosmopolitan is one of the newest hotels in Vegas. The 2,995-room resort features oversized, private terraces accessed via large, sliding glass doors. Bright, spacious interiors provide kitchenettes, multiple flat-screen TVs, and luxurious bathrooms. Note, there is no complimentary transportation to and from the airport.