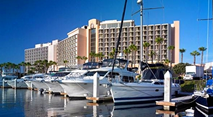 The Electronic Components and Technology Conference (ECTC) is the premier international event that brings together the best in packaging, components and microelectronic systems science, technology and education in an environment of cooperation and technical exchange. ECTC is sponsored by the IEEE Electronics Packaging Society.
Upcoming Dates
Abstract submission open
| August 15, 2020
Abstracts due
| November 1, 2020
Location
Virtual
June 1 - July 4, 2021
The 71st ECTC will be a virtual event.
Interested in receiving updates from us?
Subscribe to our mailing list by clicking on this link